David Nickles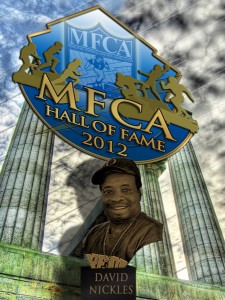 Hobbyists Category
David Nickles

Bengals

&

Ducks



Personal History
Started playing electric football in 1965, at age 11 when he and a cousin spent countless hours playing.
He actually won his first board from his cousin after defeating him in a game of electric football.
He moved to Fort Payne, Alabama in 1973 where he joined the 8 member Fort Payne Electric Football League, playing weekly contests.
In 1978 he started the Oxford Electric Football Club which is one of the longest continuously running leagues devoted to Electric Football.
He started demonstrating the game at Birmingham Steel Dog home games outside the stadium.
In 1993, he and Steve Miles, Steve Graham, Gary Pate, and Don Lewis started the "Bama Blast Tournament" – they just held their 20th consecutive running tournament in 2012.
Participated in his first Miggle Football Convention and Super Bowl against fellow Hall of Famers, Mark & Bill Klingbeil only to see his Atlanta Falcons lose to the Houston Oilers.
In addition to electric football this coach enjoys coaching youth football programs and served as youth league commissioner for 4 years after many years as a successful coach and winning many championships
Career Highlights and Achievements
In 1996 he won his third consecutive championship in the Oxford Electric Football Club.
At the 2002 Miggle Convention, he and Steve Graham were named Players of the Year by Michael Landsman.
In 1994 he was selected as an outstanding Black Man in his community by the Southern Christian Leadership Conference, Alabama State Chapter.
Personal Life
He's been married to Debra Nickles for 25 years. They have 4 children Jennifer, David Jr, Charles, and Victoria and 8 grandchildren Kiera, Malcolm, Makayla, Alivia, Kennedy, Ragan, Charles, and Gordon.
He's enjoyed watching them grow into young adults and teaching them to be a positive influence on their local communities.
If you have photos and/or stories you would like to share about David Nickles, please send them to: Email the MFCA Hall of Fame