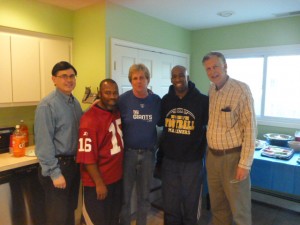 One of the greatest attributes of our hobby is the friends we make along the way.
My day yesterday was one that I would like to share with you all and hope each and every one of you get a chance to experience it.
I was somehow persuaded to go to a saturday afternoon movie with my son Ryan. He was pretty strong about wanting to see this movie Skyline. He said I would like it because it had visitors from another planet. ( some of you guys think like I do that I may be one of them ) So I got my shoes on and went with him. He and I went to Canton together and I told him if he wants to do something with me to feel free to make it important. I just did not question the movie or anything. I actually thought I would sleep during the movie.
No movie review — sorry. I do think they will try to sequel it. No I did not fall asleep.
After the movie I was going to go shopping but just went home. I had plans to go out with my friend Linda to either eat or maybe another movie so I thought I would rest.
I park my car in my driveway and go in my house and when I get to my family room I see a balloon with a happy birthday on it. I immediately thing how cool it is for my daughter to have one of her friends come and spend her birthday at our home , and that I will be out anyway with Linda.
Then all of a sudden Coach Joe Greco appears and wishes me a happy birthday (real date–11/25), then Coach Jack Thomas, then Coach Karim . I am in the twilight zone. I can't digest this at all. Almost a short circuit.
Understand that none of these guys live close to me. They are all in my house and they are wishing me a happy birthday.
My crazy head is trying to think if we are suppose to be playing, ??? Where are my men, my boards , timers. ??? Then Joe tells me to come into the family room to open my cards and presents.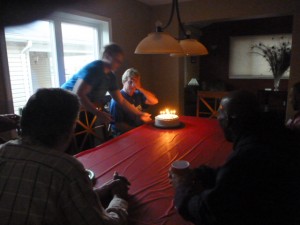 I look at these guys and think of where I met each of them. How much my this hobby has been a very big part of my life since Raiderman invited my family to his home to view the game being played for real. That was in a Denny's about 2 1/2 hours from my house. I remembered the Miggle convention in Pittsburgh and the Buzzball tournament where I watched all the guys and wondered if I could really do it. Then there was the NHFL Garden State Region where in the last year we all played together we lost CorEy and picked up Coach Joe Fields. It was a fun year and we have all never been together since then. I thought how fortunate I am to be playing in the NEFL and all the real great guys and excellent coaches that are in the league. I thought about how Raiderman should be proud of being a part of something that brought us all together in the NHFL. It was very overwhelming for me.
The part that was always there was my daughter Erin and my son Ryan who were behind this. When your children know what you love and bring it to you, you know you are blessed.
In the years since my wife's passing in 2004, I have been able to heal and change and you coaches have helped me in very many ways that I can't explain.
We were in my kitchen and just standing talking hobby and I thought on how everyone from the Garden State Region was there but Joe Fields. He was a coach on my son's pee wee football team last year but now I only run into him from time to time. My son is on the freshman team and his son on JV.
I said, we should have asked Joe Fields to come. The doorbell rings, the dogs bark , and there right in front of me is Joe Fields.
We are all members of the MFCA.
I am trying my best to say something here that transcends weight class, rule sets, and winning. It is FRIENDSHIP.
Yesterday from out of nowhere I was rendered speechless and could only watch as the little plastic men created a bond among men who would have never met in this lifetime if not for them.
An afternoon filled with hobby talk. What could be better then that.
It is great to have friends.
by Ed Roche