Hi Miniature Football fellows,
Here's a little article from the old continent, where I'm trying to recruit some news players and spread the Miniature Football passion. Tough job, since "american football" is almost unknown here (15000 licensed players for 60 millions people in France). Last friday I was invited in a tabletop gaming club (playing boardgames, wargames, etc…) to make a miniature football demo.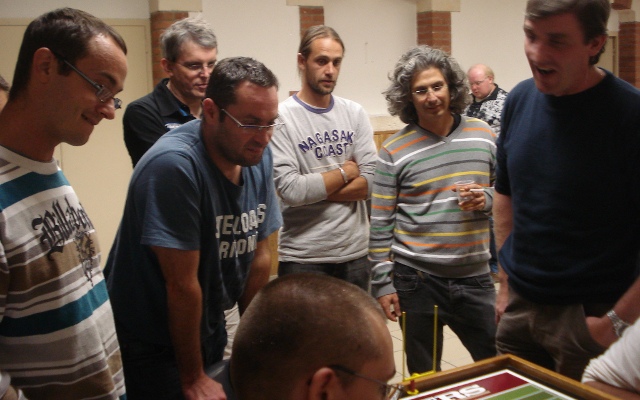 What's that thing ?
It's the first thing I  readed on people faces, when I installed my custom gameboard and stuff. The first difficulty was to explain the game's goal to the audience. Where's the ball ? They asked. I had to explain that the ball was "conceptual" most of the time in that game. Then, I had to explain that the game was about coaching, not about playing an action game like table soccer or table hockey.
Once it was explained, I quickly make first try before I loose everyone. And, once again, the magic operated. Seeing those little plastic guys living their own life always have the same effect, even on grown men.
I need a victim…I mean, a partner !

I was lucky enough to find two people knowing the "real" football game. One was the club commisionner, so he had other things to manage, the other volunteer was a former football player ! How lucky I am !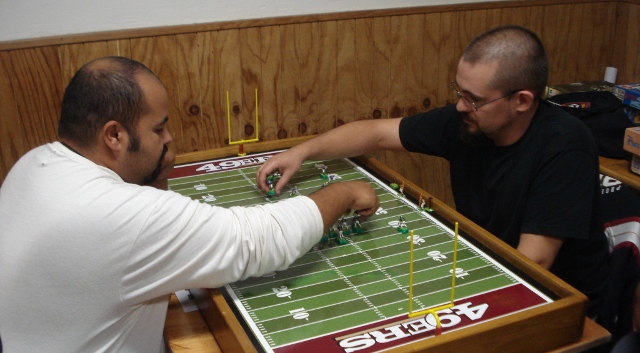 Weapons choice
For this demo, I choosed 2 ironman format college football teams. The figures are standard miggle fab5 ones. I just painted them and added decals and facemask. The goal was to show that the game can be played on a budget minded objective. I also explained that hand painted figures could be easily replaced by pre-painted factory figures, for a very decent price.
I also choosed ironman format to not loose my partner in choosing his figures. Using the same 11 men, he was able to learn the figures behaviour quick.
Finally, I choosed passing simulation for passing game, so anyone can have a decent passing rate.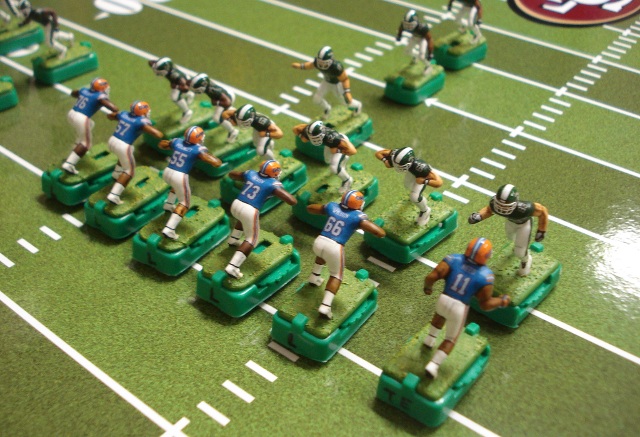 Then, the game…Oh my…
It was a good example of how close the miniature football is from real football. My partner, former football player, quickly became very competitive. His ability to read the game, find solutions, made him a good opponent just in a few game rounds.
The result ? My partner, should I say my new enemy, beated me with a severe 17-7. And I swear, I did not let him win ! Of course, I was a little tired, because of the travel and stuff…Well…Hum…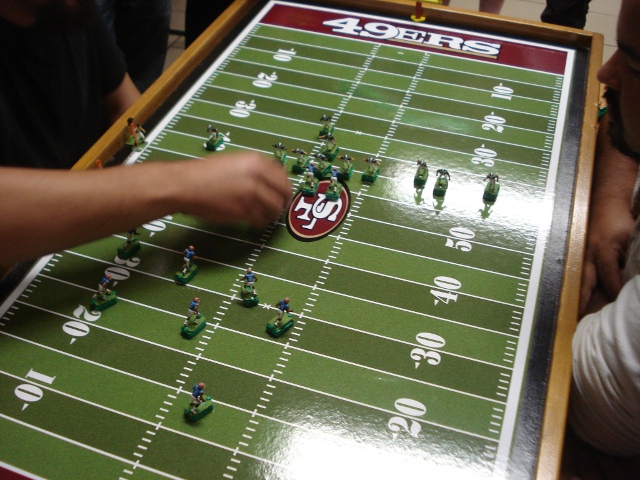 Conclusion
This demo, not speaking of the fun about playing a great game, was usefull to learn about spreading the game :
First, the game can be very intimidating for newbies. Showing custom figures, big custom board is a good thing…For museums and showcase. People will not make the first step to get into the game if they think they 'll have to make big invest of time and money to start, especially these days.
People who knows football rules (even learned it on playstation or whatever) CAN play the game. Just allow them to use passing simulation, and keep a simple team format (ironman).
Keep the game fast paced. It can sounds weird, but a 30 seconds setup is a good thing, even for newbies, ESPECIALLY if an audience will be watching the game. Keep the things fast, even if you cannot play your best game with that rules.
Boardgame players ARE gamers first. In France it's a little diferent, since american football is almost unknown. But you (north america people) should not let them on the side because you didn't find them in a sports club or football stadium. THose guys know how to play and concentrate on a game, some of them knows painting and customizing figures too. Boardgamers especially are also open minded, since they play games in a lot of universes, from cavemen game to SciFi. In your country, especially big cities, you'll find hundred of potential miniature football players.