For the Love of Little Men
By Phil Hecken, on January 23rd, 2010
By Phil Hecken, Jim Vilk and Chris Markham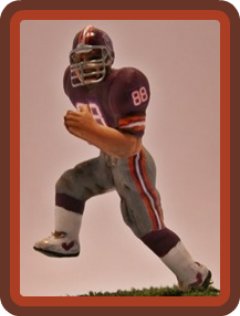 Growing up in the 1970s, before the advent of video games, I had what a lot of kids my age had, one of those vibrating football games. Mine wasn't even as nice as that basic one, but it did have one of those giant plastic quarterbacks that threw about as hard as Chad Pennington, and as accurately as JaMarcus Russell. It came with little orange "name tabs" to stick on the players (which, being about six at the time, I did very poorly), and the "ball" was some kind of magnet that was about the size of a pen cap. Still, I enjoyed it but all the players seemed to go in circles. There was, I think, one little guy who ran straight ahead, but since the quarterback couldn't throw for shit, I used him for running plays … ALL running plays. Once I lost the "ball" and the Mattel Electronic Football game came out, that was the end of the vibrating game for me. Unfortunately, or fortunately, that game got tossed soon afterwards. Never thought too much about it until I started reading Uni Watch. Seems like there is a real following (not necessarily on here, but 'out there'), and we have a couple of real artisans today who take the vibrating football game to a new level.
I'm in Minnesota at the "Deep Freeze" today, but I didn't wanna leave you guys with just pics of the Grumpy's gathering, so I conscripted Jim Vilk and Chris Markham to provide you guys with the following wonderful article. We have two sections today, one each by Mr. "I'd wear that" Himself, Jimmy V. and Chris. You may remember Chris from a few years back when Paul gave him the coveted Number One Slot in his holiday gifting selections. So, kick back for a few minutes as we take a look at what was surely a childhood favorite for a number of us, only these gentlemen take it to a whole new level. Chris has won the toss and elected to defer, so Jim will receive this quarter, while Chris will be getting the ball to start the second half:
~~~
First Half
by Jim Vilk
When the NFL playoffs started, I had a little feeling of deja vu. The Jets and Bengals were playing in Cincinnati, but I've never been there and I've never seen either team play live. Well, not on a regulation-sized field, I haven't. It felt familiar because those were the first two teams I played on my old electric football game.
My brother and I, like a lot of boys growing up in the early 70s, were captivated for hours on end with little plastic figures running into each other, running towards the endzones, and yes, running in circles at the most inopportune times. It was great fun in a simpler time. Speaking of simple, that's what our first set was. Dad got us the small field with the triangle-pattern endzones. The players were unpainted, so my brother, being old enough to paint, got to choose what teams to make. He wanted the Browns and Jets, but we didn't have enough brown paint. Instead, he used black to make the Bengals. His no-frills painting left them looking even simpler than those old football cards where they couldn't use the logos on the helmets. We didn't even have stripes or numbers, but our imaginations filled in the blanks for us.
As we continued to play, Dad saw we were serious about the game and decided to get us a bigger and better set with numbered, pre-painted players. These days I can appreciate the stark beauty of our first field. Back then, however, I wanted the snazziest field I could find, with painted endzones, logos at midfield and even colored yard-line numbers. We didn't get that one, but "settled" for one with red and blue diamond-patterned endzones and the NFL logo at midfield. We asked for the Chiefs and Cowboys, since my brother liked Otis Taylor and I, though not a Cowboys fan, liked Bob Hayes and blue uniforms. In order to accomodate our tastes, we ended up with a matchup you'll probably never see on the field — Chiefs in white jerseys and red pants vs. Cowboys in the blue jerseys.
In time, my brother grew out of the game and I was left to play it by myself. I did that for a few years, then I decided to sell the newer game to a consignment store. My brother still has the older game, but time has not been good to it. The players are in various stages of disrepair, and the field has a crease down one sideline (my fault, for leaning it up against something big and unsteady in our attic).
For about fifteen years, neither one of us thought much about electric football. Then, my brother saw an order form for a cheap game, sponsored by Snickers. For some reason, that renewed my interest in the game. I think I had visions of playing a "Snickers Candy Bowl" every holiday season. This was also when my son was born, so I'm sure I had ideas of passing on this hobby to him when he got older.
By this time, I discovered Madden video games. Therefore, I was even more into realism than when we got our Chiefs/Cowboys game. I wanted lots of teams, but couldn't afford to buy them already painted. So, I got a bunch of plain teams and started doing it myself. In the midst of all my painting, I started finding other game boards at flea markets. I bought a few, including a Super Bowl field that I thought would be nice for a Pro Bowl. I also got a small battery-powered field for Christmas, which I thought I could make into an arena football field.
Reality soon started to set in for me. I didn't have time to do all the things I wanted to do. Plus, my son wasn't that interested, preferring to play with his Legos. I started donating some of my games and teams, while other teams I started using for projects like my indoor soccer game. Yeah, I know, they're painted monochrome. It bugs me too, but I wanted to stop painting and start playing. I'll fix them someday.
All I have now is a simple field with slanted endzones, and four USFL teams. I'm painting the '84 Federals to go with the Stars, Maulers and Wranglers. My brother has all the teams I painted for him, including the Chiefs and Cowboys in a more likely uni-matchup. He has the Super Bowl field now, while I gave the battery-powered game to my son, hoping it might get him interested. Finally, it did, and for the last two New Years we've played a bowl game. I won the inaugural Candy Bowl 3-0, but this year my son trimuphed 7-0 in the renamed Snack Bowl. The trophy was a foil-covered bowl filled with goodies, but my wife is designing a new one now. Who knows? Maybe this game will make it to the next generation after all.
Well, I thought I did a somewhat decent job of painting…until I saw the work of Chris Markham. The man you're about to meet has created some real pieces of art. He's going to talk about his experiences with this hobby and show you some of his teams. Now, here's Chris:
~~~
Second Half
By Chris Markham
Third down and four from the Cowboy thirty yard line. Is the Cowboys defense up to the task of shutting down the Steelers? The Pittsburgh Steelers dial up a run play and Franco Harris blows through a big hole created by the offensive line. Then, as if a gust of wind comes by, he suddenly darts out of bounds at the five yard line. Are you kidding me? He had a clear shot to the end zone! The year was 1979, I'm an eleven year old boy and a big time Pittsburgh Steelers fan. I am playing electric football for the first time, Pittsburgh vs. Dallas.
Much like a lot of young men of my generation, that is how it all started. It was a game long before the days of Madden, ESPN and other Playstation and XBOX football games. It was a game that allowed a kid to create players, be the coach, general manager, owner, statistician, and the fan. All of which I wanted to be when I was a young boy. As time went on, I suddenly realized that I needed more teams to have a really competitive game. With my extra money that I had received from cleaning the house, I was able to get Kansas City, Tampa Bay, NY Jets and a few others.
Now I was all set. Many teams, a season, more stats…I was in football heaven. Electric football would be a staple in my life for the next five years or so. Compiling stats for all the teams, creating Super Bowl champs, having an All Star Game, you name it, I would try it with my electric football teams.
As I grew older the game became less interesting to me and I put it away. It would be away in my parents' basement for the next twenty plus years never to be heard of again. At least not until my parents decided it was time to clean their basement and give back the stuff that I had left behind. I suddenly had a wealth of old toys, sports memorabilia, comic books and, of course, electric football.
Well, I had no need for this stuff. I was a grown man, I didn't need to play with any of these things. So, off to E-bay they all went. I started to post a handful of teams on E-bay just to see if I could get rid of them. Well, did I ever. I would receive questions like "Are there burrs on the bottom?" or "Is there a Hong Kong stamp?" I didn't have a clue on what I had or how much they were worth. It wasn't until a man named Charles would teach me all about the history of electric football that I understood what it was that I was selling. Charles would go on to give me a history lesson of the years players were made, where they were made, what the value would be, etc. To this day I give him 100% credit for bringing me back into the hobby. There are a lot of people that would have never told me what I had in my collection, but Charles was up front and honest. After I had sold most of my collection, except the Buccaneers, I had the E-bay bug and I needed to sell more teams. I had placed an ad in the local paper to see if anyone had some teams that they wanted to sell. Well, one gentleman did, twenty six teams in all, and I was off selling again. From there I started to wonder about USFL teams. Wouldn't it be cool to have a whole league of USFL teams? But how do I create those teams? That is when I discovered Miggle and the web page. I had no idea that Miggle provided unpainted players. The very first team that I ever painted was the Tampa Bay Bandits. To this day it has been on my shelf as a reminder of where I started. My next venture was to paint the Houston Gamblers and Portland Breakers, two more USFL teams. It was at this time that I started to feel remorse from selling off all of my childhood memories. I decided that I would try and rebuild my old collection of teams. I shopped around E-bay and began to pick out the teams that I wanted. This time, I was loaded with information. I sifted through the site and only chose the teams that I was interested in. As I started buying back teams, I realized that I no longer wanted the USFL teams. I put up the Gamblers and Breakers for sale but kept the Bandits for posterity.
As the auction days passed, I was inundated with requests. "Do you paint NFL teams? Can you paint college teams? How much for a custom team?" I now had a side hobby. I began to wonder how to make these figures look better. I came accross a young man, Adam McFarlane, who was painting McFarlane figures. In talking with Adam I discovered the world of decals. We would chat daily on how to paint figures, what paints to use, what sealers, where to find decals, I was off and running. This brings us to present day. I now paint teams for folks all across the US, from college to pro to make believe teams. I have learned from many people in this short period of time how to make my players better and more realistic. I have also learned some hard lessons along the way, namely, be careful of NCAA and NFL trademarks. I hope this hobby becomes as large and popular as it was when we were kids. And as it grows, I hope to grow with it!
~~~
Wow. Thank you gentlemen, not only for the trip down memory lane, but also for a look at the future of electronic football. It lives! What a great hobby, too — a reminder of the simpler times, for sure.
What say you, dear readers? Did you ever play? Anyone have any interesting stories? Let's hear them all.
~~~~~~~~~~