Hi,
In this little article I'll try to show you that finding minature football gameboard is not as hard as you may think. Yes, of course it 's will be harder to find here in Europe than in USA. But it stills possible, and not so expensive.
For that, you'll have basically 3 solutions. A new gameboard, a used gameboard, or a self built board.
FINDING A NEW GAMEBOARD :
To find a new gameboard, you can look at Miggle online store. The gameboards big enough to start playing are the Rosebowl model and the 620 model. Miggle accepts to ship in Europe, and the shipping cost is based on real price.
For a Rosebowl game, the shipping should cost you around 50 USD for example. With the strong Euro, a complete shipped game will cost you around 100euros for a Rosebowl game, and about 150euros for a model 620 big board. Of course, that is only an estimation, you can contact Miggle store to have more information.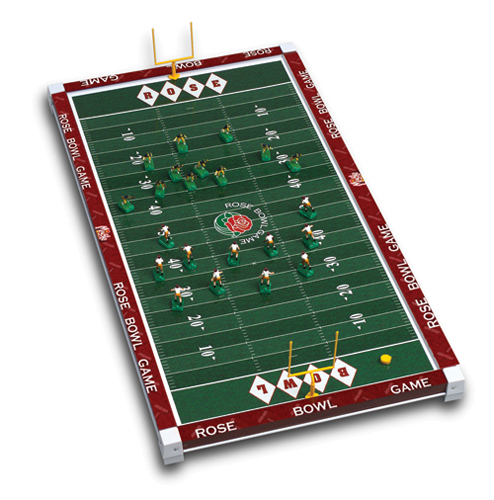 There is other ways to find a new board : the "big boards". These made in USA hand crafted boards are a lot more expensive, but they are bigger too. You can choose the decoration, field logo, etc…You can try to contact footballfigure.net, or Buzzball, Rollerboards, etc…see the MFCA sponsors to find their adress, and see if they accept to ship their boards overseas.
FINDING A USED GAMEBOARD :
To find a used gameboard, go on ebay or on the MFCA trade forum. It exists several models and vintage brands, but if you want to buy a good gameboard, the best one you can find is the TUDOR MODEL 620.  Including shipping, it should cost you around 100-150 euros, depends on the demand as usual in used items market.
On Ebay, search for "electric football" , "tudor" key words. Do not forget to select "international sellers" to see all the items. And ask the sellers if they accept to send items to your country before buying anything.
BUILDING YOUR OWN GAMEBOARD :
Building your own gameboard requires skills and tools. If you think you've got it, it will cost you around 100-200euros, depanding of the material choices. See the MFCA forum, Tweak magazine, etc… to find explanations for that work.  It's really a rewarding job, but long and not so easy. Not the cheaper choice, but the result will make you proud. The last advantage of it solution : everything is available in your local hardware store, no matter your country.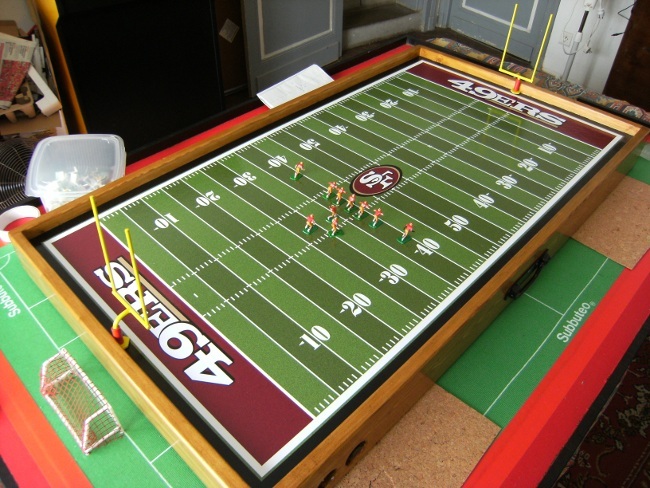 CONCLUSION :
We saw that finding a board is not as difficult as you might think. Especially these days with internet and a paypal account. You can also notice that miniature football stills a quite cheap hobby : cheaper than slot racing, table soccer, pool, rc racing, model railroading, etc…
Miniature football is not only a game : it's a complete creative hobby, with modelling. You can play it alone, or with your friends or family. And believe me, all that is international.
Dimitri