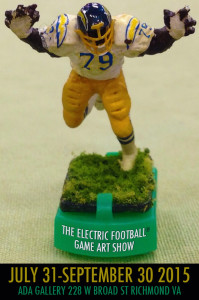 The Electric Football™ Game Art Show
July 31-September 30, 2015
Ada Gallery
228 W. Broad St.
Richmond, Virginia 23220
Phone: (804) 644-0100
Web: adagallery.com
Opening nights:
Full Exhibition: Friday July 31, 6-9 p.m. Friday August 7, 6-9 p.m.
Small Exhibition: Friday September 4, 6-9 p.m.
Curated by Chris Bopst and John Pollard, The Electric Football™ Game Art Show will feature archival items and custom electric football figures, teams, game fields and art by  players, artists and enthusiasts from across the United States. Electric football is a pivotal part of the NFL's history and the game was the highest selling NFL-licensed merchandise from 1967-1976 before the video game revolution told hold of America's youth. The exhibition will showcase the obsessively detailed work of enthusiasts that have not only kept the game alive, but have revolutionized every aspect of electric football from game play to figure painting to board construction. Through their decades of diligent effort, this tight-knit and largely unknown community has transformed what was arguably the most disappointing board game of the 20th century into a game that has become the closest you can get to playing football without physically playing it. A cornucopia of visual delights, you don't have to be a fan of football to be thoroughly amazed by the work in The Electric Football™ Game Art Show.