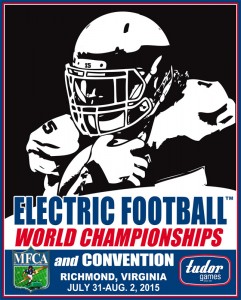 The MFCA and Tudor Games are excited to announce the 2015 Electric Football™ World Championships and Convention (EFWCC)!
For complete details click here: Tell me about the Electric Football™ World Championships!
To register and get your badge click here:I Love Electric Football. Sign me up!
Many of the details are being worked out regarding the itinerary and rules, but you can start booking your room NOW for what is sure to be one of the biggest Electric Football events ever!  There will be games for all levels of play from youth to master, including the MFCA Tournament of Champions Qualifier and Finals! Tudor Games will have their store up and running for all your product needs! There will be the usual gang of tweakers, painters and collectors roaming the hotel. Also, just 15 minutes away, Chris Bopst is hosting the 2nd Electric Football™ Art Show at the ADA Gallery! Throw in the Washington Redskins training camp in town and you have one incredible football weekend!
The 2015 EFWCC will be held at the Four Points by Sheraton, Richmond Airport, July 31-August 2!
The Four Points by Sheraton is located at the airport and includes free shuttle service, swimming pool, hot tub, fitness center and wireless internet.
WHAT: 2015 Electric Football™ World Championships and Convention
WHO: All interested EM-F-ers (Electric Miniature Footballers)
WHEN: July 31-August 2   5:00 pm Friday – 3:00 pm Sunday
WHERE: Four Points by Sheraton – Richmond Airport
4700 South Laburnum Avenue * Richmond, Virginia 23231
Hotel Phone: 804-226-4300 * Fax: 804-226-6516
Website: http://www.fourpointsrichmondairport.com/
PRICE: $89  Tell them you are with the MFCA and use the code: MFG30A