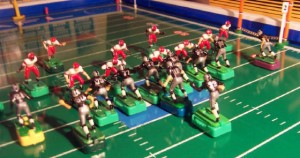 Tudor Electric Football NFL Teams are a highly sought after collectible in eBay . There are some definite things to look for and questions to ask sellers when shopping for authentic Tudor Electric Football items. The most sought after items are the small plastic NFL players that move on a vibrating metal field that became a popular kids toy in the mid 60's and through the 70's. Some sellers know that the prices these little plastic football figures can bring, but sometimes price themselves out of the market because they themselves don't know what they really have at times. And some sellers lose money because they let items of great value go at low buy it now prices or they show poor pictures of the teams.
The most sought after Tudor Electric football figures are : 1967 BIGMEN , made in HONG KONG these players have Hong Kong engraved on the bottom side of each player. They are a little larger than the other figures. They have black shoes and are a little over an inch high. BIGMEN still sell for as much as 50.00 to 3 or 400.00 per 11 man team. The next most sought after TUDOR figures are known as 1969 HOGLEGS . HOGLEG players are smaller than BIGMEN and only 4 players are marked Hong Kong on the bottom of their base. HOGLEGS sell anywhere from 10.00 to 150.00 per team. The next type of TUDOR players came out in 1970 . These were called CHICKENLEGS. CHICKEN LEGS were still NFL teams with black shoes, but none have the Hong Kong marking. CHICKENLEGS still sell for 10.00 to about 30.00 depending on the team. In the mid 70's Tudor switched production to Haiti and the Haiti figures are identified by 2 little burs on each side of the bottom of their bases. Haiti figures and Hong Kong CHICKENLEGS still pull about the same amount value wise. After Haiti production. Figures went to white shoes and basically have a value of 3 to 7.00 per team.
My best advice for both buyers and sellers is to research completed items in their search options and view pictures and buying trends of the various Tudor Electric Football items.  Feel free to contact me for more information.
Be sure to check Charles site. Its a great one! http://capanther.tripod.com/