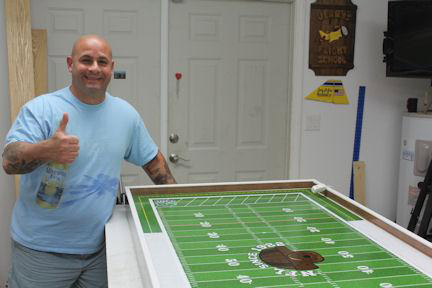 Download full article here: DIY Scale Size Electric Football Field
Welcome to the wonderful world of Do-It-Yourself (DIY) in electric football!! I have been building my own scale electric football game boards since 1998. I have built approximately 36 scale game boards since then. What I have designed and conveyed to you in this downloadable pdf should bring you years of enjoyment!
This scale of electric football fields opens up the game and makes for a more satisfied experience for your coaching enjoyment.
In January 2013 the Miniature Football Coaches Association (MFCA) & I hosted a new stop on the MFCA Tournament of Champions (TOC) Series, the Warrior TOC in Lakeland, FL. The tournament was played on scale "Warrior TOC" game boards and that is what you will be building if you complete these instructions.
The scale of these game boards is is ½" = 1 yard. If you take the time to build this game board you will not be disappointed. Take your time, read the instructions through carefully and don't be afraid to get help if you need it. Note the periodic warnings as they could save your life! If you modify this, go for it, however I cannot guarantee you will have the same successful results as I have had.
Many people ask me if I will build a game board for them. The answer is yes, however, I do not ship my game boards. If you want me to build a game board for you, you have to come to my house in Florida and pick it up. I do not bend on this rule.
My hope is that you will try and build this game board, enjoy playing on it and I know it will open up new dimensions and possibilities in your electric football experience. I plan on hosting the Warrior TOC every year here in Lakeland, FL. I hope to see you here so you can experience these scale electric football game boards in a very competitive setting and I hope you enjoy playing on this scale field I have designed for you!
Jerry McGhee
http://miniaturefootball.org/wp-content/uploads/2013/03/Warrior-TOC-Gameboard-Instructions-March-2013.pdf