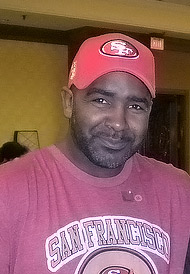 The "national one" scored the highest points as well as the highest number of quality win points to secure his place in the top spot for our first ever MFCAL season! Corey will have one spot in the championship game to be played on Sunday at the convention against the CPC champion for the ring. He also wins a great trophy to be awarded at the convention.
I want to thank everyone who participated in the first year league! We hope to expand on it this next year. We had 74 coaches participate this year with 6 coaches completing the full season: Corey Johnson, Jim Davis, Joel Pritchard, Don Lang, Joe Greco and Steve Martin. The largest jump in the standings due to quality win points goes to Greg Hardmon who gathered an astounding 32 QW points in only 6 games. If he would of completed all 8 games, who knows..? A lot of other games could have been recorded, but often coaches forgot to agree on the game before playing. The goal for this next year will be to get a greater number of coaches completing the full 8 games and we have made this easier to achieve by now allowing each coach to play 2 coaches twice. There is a greater benefit to playing 8 different coaches because of quality win points, but this will give every coach, regardless of their area, a chance to get in the top spots. Be sure to check the updated rules at: http://miniaturefootball.org/mfca-league/
Season 2 begins July 9!!
Again, congrats to Corey and all the MFCA coaches!!