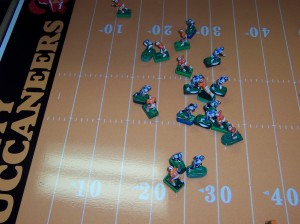 Live in the New York, New Jersey, Connecticut (Tri State) area? Looking for a few hours of FREE entertainment indoors? Heard that electric football is still being played for REAL? Then make a trip to The Toy Wiz in Nanuet, NY this Saturday (August 27th) to catch the Connecticut New York Electric Football League championship game. Yes, I said league championship game. The CNYEFL is made up of coaches from NY and Connecticut.
The game still looks much like it did years ago – but many things have changed with the play of the game. "Coaches" manipulate their players to run and block the way they want them too by adjusting or "tweaking" the bases – developing speed and strength! Also, many coaches creating unique player poses and skillfully detail the figures very much like table top wargamers do (such as examples seen here ). On Saturday there will be coaches there more than willing to share their knowledge and passion for the game. Stop by and check out some great miniature football action.
The Toy Wiz is located at 253 West Rt. 59 in Nanuet, just off exit 14 of the NYS Thruway. More directions to the store can be found at: http://www.toywiz.com/retstordiran.html.