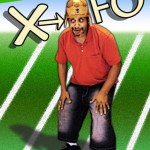 Before setting out to try and conquer the Tournament or league title, you have to do your homework first.
In my experences of traveling to various tournaments and conventions, I have found that the most sucessful players/coaches are always ready on game day.  Ready in more than just ready to play, but all aspects of his team is ready.
From having team in uniforms, bases already tweaked for action.  Players secured nicely in cases arranged in the coach's favorite layout.  Special towels, sneekers, drink etc.   I love to see all of these things but that is still not the work i speak of.
Doing your homework is making sure your team has been tested to perform the functions you have put together in the gameplan.
I spoke of Special Teams earlier, and make sure that you know who you want to cover kicks and who you want to block for the returns.  They may not be the same players.  You also have to make that list of players at least 15 players long because of the need to sub.  Your gunners may be fast but light in the pants – so he gets no where because he can't keep his feet.  You have to know where to go on the roster to make the change.
Doing your homework is also working on the passing game!  Practice, practice, practice and practice some more.  You can't understand the need to do this.  THIS IS A MUST!!!!!!
You might as well stay home if you are not doing this.  You will be travaling to see old friends and new opponents, but you will be "one and done".  This is something that has caused me problems over the years.  Here I am preaching this concept, but i don't spend enough time doing it myself.  But I can run the ball so I take it for granted sometimes.
You have to know, in your mind, "What should I do if ……"
…. my team is not the strongest team on the field…
…. They are holding my WR and they cannot get off…..
…. their loopers are faster than I thought …..
…. this field is running like a piece of poo…
If you have the right mental approch to this, none of these this will faze you.  you will still be able to focus on the mission at hand.
I have competed in lots of big games, so I have had practice at it.  When the Brass Ring is RIGHT THERE IN YOUR FACE and you want it so badly…. well not everyone has been there.  It is a different mindset to one, get there and two to win once you are there.  But it all begins with doing the little things back at the "BUZZCAVE" so that you can worry about the adjustments with  a calm mind.