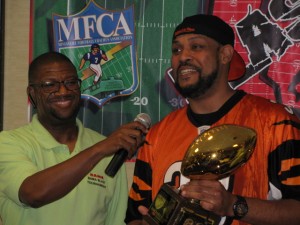 Check out the photos by our MFCA members from this years 2014 Bama Blast TOC held in Oxford, Alabama on June 6-8!
See photos here
Congratulations go out to all the coaches in attendance and competing! Special congrats to Darren Jahmani, the winner of the TOC event and to runner up Will Chalmers! Darren won his first TOC event 21-15 over Will who is one of the youngest and up and coming coaches in the MFCA! These two will be making more waves on the miniature electric football scene for years to come!
Also congratulations to the Coaches Challenge winners, Adrian Baxter and Charles Lane who won a defensive battle over Bryan Nutt and Joel Pritchard, 7-0
The MFCA Hall of Fame inductees were also announced at the Blast and congratulations go out to perennial champion, Adrian Baxter from Maryland and Eric Robinson and Dave Campbell from the LAEFL! Very deserving new members of the MFCA Hall of Fame!