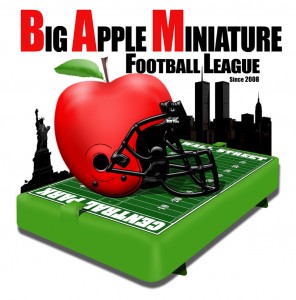 The action started up once again at The Toy Wiz in Nanuet last Saturday as The Big Apple Miniature Football League kicked-off Season 4. Coaches from New York, New Jersey, Connecticut, Philadelphia and the D.C. got back to crackin' the plastic in the Shootout Style league based at a gaming mecca in Rockland County, just north of the NYC. The action started up with a rematch of last season's Super Bowl as nationally known gentleman of the hobby Joe Greco led his Jets against the Packers coached by the one known as Artlax. Each coach had some early misfires, but both eventually settled down and the Packers survived despite the Jets answering with two late scores and just missing the onside kick recovery.
Other coaches settled into their games and there were some very interesting match-ups. Coach Brian Healey (Season 1 champ) led his Falcons to a decisive opening day victory as did Kevin Boddie with his Redskins. 2nd year BAM Coach (but no rookie to the game) John Wharton led his LA Rams to a pair of opening day wins over the 49ers (Coached by CorEy the National one) and the Redskins – averaging 32 points in the victories. These two wins came after recording yet another CNYEFL championship earlier in the day.
Coach Greco led his Jets to win over the Redskins later in the day and National's 49ers bounced back with a late afternoon win as well. On Sunday the Boddie's Redskins battled with National's 49ers – with the 'Skins coming out on top.
All of the scores along with pictures can be found in the forums league section of the website. Be sure take a moment to check out some of the pics of the action. For more information on the BAM be sure to check out our league website at: www.leaguelineup.com/bamfl.