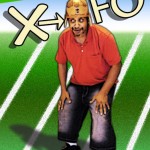 Well, here I am – on the verge of another
opportunity to win another league title. I think that I am ready for a playoff run that could end up in the title game.
The road to get there seems so far away. I have taken my team, Ravens, thru so many different drills to see if they measure up.
Measuring the skill level of this team has been fun. I remember at the beginning of the season, the team was still finding it's way. Shootout Style MF is very fast paced game. You don't get to spent a lot of time thinking about the next play or even the next sub to bring in the game. You just have to be ready for 60 mins of this.
For the offense, you need to maintain your "sideline madness" to a minimum. Players have to be ready to go into the game when you want them. No wasted motion when moving from play to play.
On the defense, you must manage your schemes so that you can make the right adjustments as the game/drive progresses.
So as I begin to think about what plays should I practice, it's easy for me – run the basic plays until I have tried it against every possible defensive front I can think of until I works on consecutive plays.
When Game time rolls around, the basic plays (fundamental stuff) will be the base for all other plays the will get run later in the game.
I will not revel the game plan, I do have one that will feature what was learned at the MFCA 2009 Convention, plus basic K-LO principles to secure a victory.
k-lo