You're Officially Invited!

Welcome to an amazing event now bigger and better than ever! Join us on football withdrawal weekend–the weekend before Super Bowl XLVIII–for the Electric Football World Championships in Philadelphia as we continue the great tradition of Electric Football competition, fellowship, and fun.
The TudorCON 14 Electric Football World Championships and Convention will be held January 24-26, 2014 at the Embassy Suites Philadelphia Airport Hotel. Clear your calendar and make plans now to experience an Electric Football extravaganza for coaches, friends, and families to connect with our great hobby and friends old and new.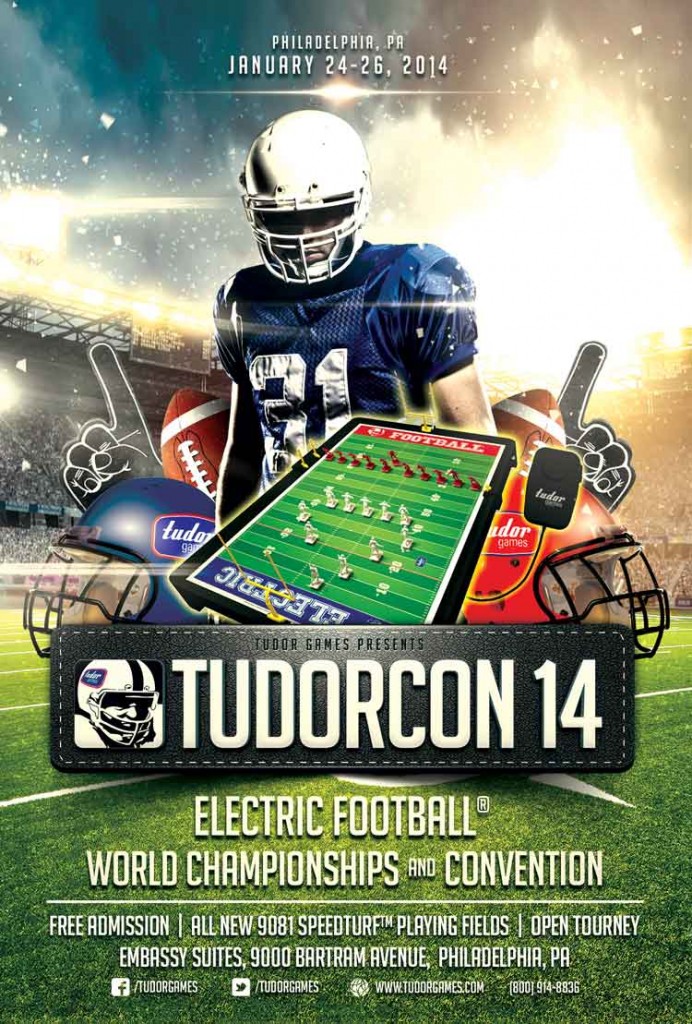 World Championship Tournaments
Do you have what it takes? Headlining the three day weekend will be the tournaments: the Electric Football World Championships for adults, the Spark Bowl Senior Championships for ages 13-17, and the Spark Bowl Junior Championships for ages 8-12. The rules are very similar to conventions past and are now posted in the Tournaments section of the Tudor Games Community site. or click here to download the Word Doc. Our amazing tournament officials are led by convention veteran and gridiron expert, Mr. Michael Guttmann. Our officials will ensure a fair and well-run tournament experience for all coaches. What's at stake? The coveted Crystal Football, The World Championship Ring, and prizes and awards and trophies for all tournaments.
Our 2014 Special Run Tournament Edition Bases this year will be bright PINK, to honor our loved ones and to support the Susan G. Komen for the Cure® foundation that plays a critical role in the fight against breast cancer. Tudor Games will donate 100% of the proceeds of every set of PINK bases sold at TudorCON 14 to the Susan G. Komen for the Cure® foundation.
Convention and Exhibits
Our Tudor Games MVP will be on hand, Margie Windsor, Tudor Games Warehouse Operations Manager. Margie and her niece Brandy will be running the Tudor Games Store, helping with product selection and answering obscure Electric Football and tabletop game trivia questions. Margie will have our traditional products and some new and exciting surprises in stock for your shopping enjoyment.
We're excited that both Earl Shores and Roddy Garcia, authors of The Unforgettable Buzz will be at TudorCON 14. Not only will they be bringing a specially printed "convention edition" of The Unforgettable Buzz to Philadelphia, they will be setting up their Tudor Games and Electric Football historical display for the first time in 14 years. This will include rare NFL teams and games, as well as items directly from the collections of Electric Football inventor Norman Sas, and Electric Football design legend Lee Payne. And adding to the history of Tudor will be the games and display of Baltimore's René Smith.
What does it Cost?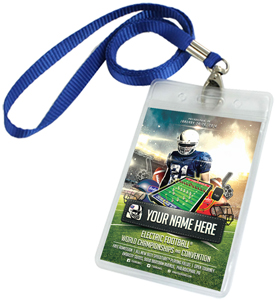 The event is free, but you must register in advance for a TudorCON 14 badge. Badges admit the wearer to the event and are available now, just click –> here <– to order yours. We are charging a small fee for two optional events: the Welcome Dinner and entry in the Adult Tournament each cost $5. We think these small additional fees will help to make TudorCON a fun, well-organized, and memorable event. Upon ordering badges, you and your party will be added to the guest list. Your personalized and official TudorCON 14 Badge will then be waiting for you at the registration pick-up table at TudorCON 14. If you wait too long to order your badge(s) for TudorCON 14, we cannot guarantee you a spot in the tournament and we'll need to hand-write your name onto a name badge. Please help our planning efforts by ordering a badge for each adult and every child you're bringing who is over the age of 8.
Hotel Accommodations
We're happy to report that we've secured a great room rate at the Embassy Suites hotel for only $109 per night, plus tax, for single through quad rooms. We suggest you make your roopm reservations now, or as soon as possible. The easiest way make your reservations and get this preferrred rate is to visit the Embassy Suites TudorCON 14 Page. Please don't delay; our block of rooms at this price is limited. The hotel is located at 9000 Bartram Avenue, Philadelphia, PA 19153 and the phone number is (215) 796-6007. If you call, make sure to mention Tudor Games to get the preferred rate.