Hi,
Here's a little first step guide I made concerning a great advanced customzing technic : the arms and muscles sculpting. It's not really a complete step by step article, but just a quick guide for people who does not want to wait for the more complete article I'm preparing for a future Tweak Magazine issue concerning sculpting. So here 's a little "teaser" !
For the putty, you need some "green stuff", also called Kneadatite or Duro. You can find it on ebay, for example. Be carefull with prices, some putties are a way overpriced. I paid mine (one meter roll with box) for about 20 USD (shipping from UK to France). You can also buy it under stripes, it's more expensive but you can find good deals too.
For the beginning, putty  stripes are good  because the green stuff becomes harder after a few months/years…so you don't need a roll if you don't plan to make thousands of figures or complex big projects.
For the tools, you need basically 2 tools : one curved metal tool and one rubber brush.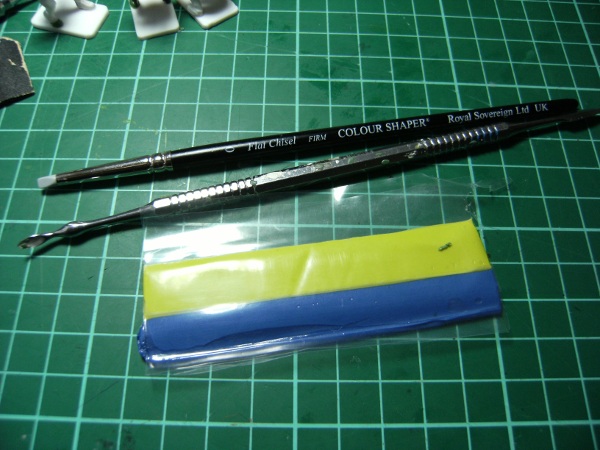 tools and green stuff. Everything is easily available on internet, now !
the metal tool is used for the rough shape and sculpting. The rubber brush is used to smooth the muscles surfaces. The metal tools are available in hobby stores and wargames stores…and ebay of course.
For your first metal too, try to find a sort of small spoon. It's usefull. For the rubber tools, buy a flat one and a round one first.
Since the green stuff is very sticky, you'll need some vaseline (a sort of oil, used for resin casting, you can find it in arts supplies or hobbies stores) to rub your sculpting tools on it, then clean it on a clothe. It helps a lot to make the scultping smoother. BUT be carefull to not oil the surface where you want to stick the putty. First put your putty in place, then oil your tools.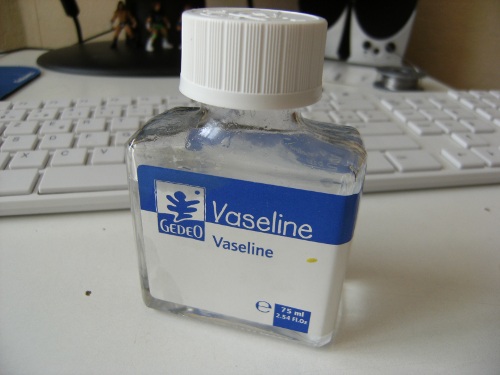 Vaseline oil, very fluid liquid used for resin casting
For the sculpting process, use anatomic books…and/or comic books, with muscled super heroes !  It will help you to find the right way. You can also use real football athletes pictures, especially the strongest ones.
To sculpt, you need a clean figure. Always clean it with soap and water. Same thing once the sculpting is done, to remove the vaseline oil on it.
THen, to make the muscles, simply add little bits of putty on the figure : one bit for the biceps, one bit for the triceps, etc…
make one muscle at once. Put the bit on the figure arm (for example) then rouglhly shape it with the metal tool. THen, once you're happy with the overall aspect, smooth it with the rubber tool. Then, do another muscle. You can "spread" the putty to make better transitions between the muscles with the metal tool.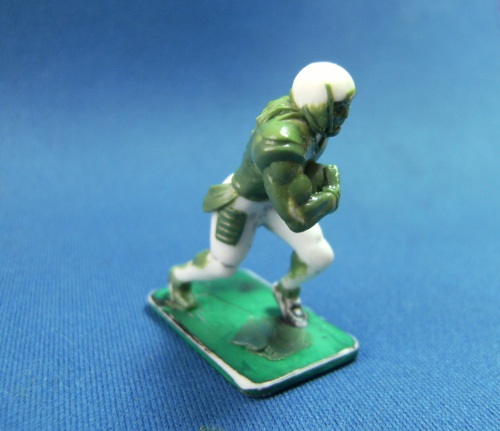 an example of sculpted figure, based on a Buzzball figure I use as a core shape
You have the first keys to start sculpting, good luck and enjoy. I'll make a more explicit article when I'll have some free time, it will be available for MFCA members in the Tweak Magazine (the miniature football dedicated magazine).
Dimitri, from France