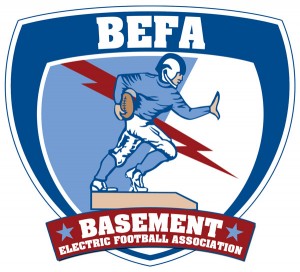 So, my basement league has officially kicked off this year, season two. My time is very short with trying to start a business and helping out the family, so many things had to change in my league.
First, I needed to find a way to be more competitive. In doing so I have decided to use the three stop rule used by MFPL. The first week I did not use it and now, beginning my second week, the first game I played under the new system was unreal. Rushing yardage was up, passing yardage was up. No more seven to eight yard losses on running plays. No more rugby scrum piles of players in the middle of the field. It felt like real football, just as Mr. Burgess had mentioned in his DVD. The games are a bit longer but that is OK, its really cool to see a player run for an eighty yard touchdown and have three guys trying to run him down from behind.
The second change is the amount of games played. Last year I had a twelve game schedule. I managed to get through it, but it was long. Now, adding four new teams I need to make the schedule a bit shorter. I decided on a ten game schedule, each team playing there divisional foes twice and two out of division teams. Now, I need to decide on playoffs.
So, the my world of solitaire football is an ever changing one. And maybe that is the beauty of playing solitaire football, your house your rules. Everyone has wonderful and creative ways to play their own games all with the same outcome-FUN.
Have a great 2010 all you solitaire players out there keep doing what you are doing. Oh, and Al, we will have the battle of the Basement soon, LOL.