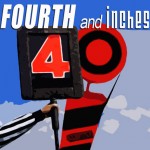 Yeah, I knew a title like that would get your attention!  The world just can't get enough of this sad story.  Obviously, the damage to his family is just devastating. And many are also wondering what impact all this will have on his future in golf.
What about cheating in our small world?  In many ways it is like a big family. Of course it pales in comparison to the apparent infidelity that has been on every front page and a part of every lead sports story these days.
The of fudging a little extra weight on a player, claiming a ball carrier was not touched when he was, saying a pass was incomplete when it did hit the receiver.  These are just a few examples of things I have seen in games during the past few years. Obviously, the immediate impact of disagreement can set a sour tone for the remainder of a game – in fact I have seen it force some coaches to simply walk away from the situation – ending the game.
But the far reaching impact of this kind of behavior can negatively impact the future of our game.  It certainly can create a situation where individuals don't want to play specific coaches causing them to avoid tournaments or leagues. And many guys will not even consider acting as a referee for any game because of previous negative experiences.  So the question I put to you is how should coaches consistently acting in this manner be dealt with?  Whether in a league or a tournament – I await your thoughts?