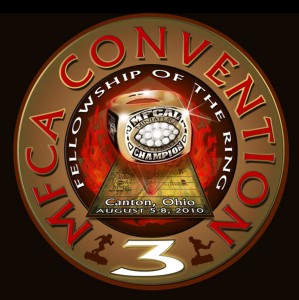 Here is all the info you will need for the 2010 MFCA Convention.
WHAT: 2010 MFCA Convention
WHO: MFCA members and their guests. All interested EM-F-ers (Electric Miniature Footballers)
WHEN: August 5-8 3:00 pm Thursday – 5:00 pm Sunday
WHERE: J Babe Stearn Community Center (same venue as last year)
2628 13th Street Southwest
Canton, OH 44710-2169
(330) 455-3921
http://www.babestearncenter.com/home
Get Directions
Official Hotel: Hampton Inn Massillon
44 1st Street Southwest
Massillon, OH 44647
(330) 834-1144
http://www.hamptoninn.com/en/hp/hotels/index.jhtml?ctyhocn=MSLOHHX
Get Directions
Tell them you are with the MFCA or Lynn Schmidt
We made arrangements to rent the entire Stearn Center for the weekend. This includes the basketball courts, locker rooms, showers, weight room, pool tables, meeting rooms and kitchen. In other words, bring your air mattress or cot, tent or camper and you can spend your entire weekend in or at the community center without need of a hotel.
If you are concerned about your belongings while at the center, you may make use of the lockers, but bring a padlock. Space will NOT be an issue. This is a huge 32,000 square foot facility!
You must be a MFCA and or CBSMF Member to stay at the Center! The following fees are NOT per day fees. These fees are one time fees for the entire weekend. You can't beat this deal anywhere!  The costs to stay at the center are listed below in the drop down per night boxes.
Individual Stay at Stearn Center per night $25
Family Stay at Stearn Center per night $35
Friday Night Buffet Dinner – $7 each – 6:30-7:30 pm

Rigatoni Alfredo, Roast Beef, Baked Chicken, Mashed Potatoes, Corn O'Brien, Salad, Roll and Butter, Coke products, Bud, Bud Light, Miller Light, Sam Adams
Deadline for ordering is July 24, 2010
CPC Rules and Itinerary: CPC rules are listed below. Coaches who are NOT MFCA members are not eligible for MFCA Coaches Points Challenge. However, these coaches that are not MFCA members can join the MFCA and will be entitled to compete in the Coaches Points Challenge (CPC). All CBSMF games played by MFCA members will count in the Coaches Points Challenge totals.
Tickets ($) to HOF events: Your attendance of the MFCA Convention includes FREE front of the line admission to the Hall of Fame for the weekend courtesy of the Pro Football's Ultimate Fan Association.
Kid's Tailgate Party info: This will be taking place at the Pro Football Hall of Fame on Saturday, August 7, 2010. Time TBA.
Donations for Kid's Tailgate Party Prizes: Corey Johnson, aka Prettyboy has taken charge of the gathering of donated prizes for the Kid's Tailgate Party event. Please help him out by contacting him and making a donation. These prizes do not need to be huge in nature. Even if all you have is a bag of older painted figures or pack of trading cards it will be happily accepted. Cash donations to purchase items are also accepted. Contact Corey at yizcorey@aim.com or call him at 610-587-7238
MFCA Convention & Points Challenge Itinerary
(subject to change)
Thursday
3 pm: Coaches begin arriving. Those arriving early are encouraged to visit the HOF this day as we have a full schedule.
3 pm: Registration opens. Coaches Points Challenge (CPC) signup. CPC games may begin at any time after registration.
Friday
9 am: Registration opens for day.
3 pm-4pm: MFCA annual meeting to discuss finances, direction, events for weekend.
5:30-6:15 pm: The GREAT TWEAK OFF (see rules at bottom of page)
6:30-7:30 pm: Welcome dinner buffet
7:30-8 pm: MFCA HOF annual awards and MFCA welcomes.
8 pm-? Speed, Passing, Kicking and Strength events begin. CPC play continues.
Saturday
9 am: Registration opens for day. CPC continues, skills competition continues.
9 am-9:30 pm: Travel to Canton for the Kid's Tailgate Party. We will be limited to the number of people and tables at this event due to space restrictions.
10-2 pm: Kid's Tailgate Party at the Hall of Fame. Meet Pro Footballs Ultimate Fans, the Hogettes, Bone Lady and more!
7-9 pm: Hall of Fame enshrinement ceremony in Canton for those who purchased tickets.
Sunday
7:30 am: CPC play continues
9 am: CPC closes
12 pm: CPC Championship Game 4.0
1pm: Awards
4 pm: Convention closes
5 pm: Tailgate party at the Parking Czars next to HOF Stadium
8 pm: Hall of Fame Game for those who purchased tickets. Cowboys vs Bengals.
CBSMF Playoffs Itinerary
(Info coming soon)
Friday
Saturday
Sunday
CBSMF National Championship
CPC RULES
The MFCA Coaches Points Challenge (CPC)
To best explain the Coaches Points Challenge you must first understand that the main goal of the MFCA Convention is to bring coaches together in fellowship, to have fun, to experience new ways of playing Miniature Football and promote the game and hobby of Miniature Football in all its amazing forms thus bringing us closer together in understanding and unity.
The Coaches Points Challenge (CPC) is not like the usual tournaments that we are all used to. From the moment you have completed your registration in the lobby, up to 8 games played will add points to your final total. The coach with the most points by 9:00 a.m. on Sunday is the MFCA Coaches Points Challenge Winner. In addition we will take the top 3 scorers from each region of the MFCA's seven regions, combine their totals and the region with the highest score will take home the MFCA Daley Award Perpetual Travelling Trophy which will be engraved with their names and passed on from year to year.
The winner of the CPC will compete against that years MFCAL winner at 12:00 p.m. on Sunday for the overall MFCA champion.
The rules of the CPC are as follows.
Coaches may play up to a maximum of 8 official challenge games over the course of the weekend. These can be played at any time, day or night. Coaches are responsible for issuing challenges and finding opponents to play. They can begin scheduling these games at any time and may use the forum, phone calls, emails etc. to begin scheduling. The rules used in the game are determined by the two coaches. Any rules set or variation of that rules set or "house rules "can be used but all changes to the rules set must be agreed upon by both coaches prior to the kickoff of that game. The MFCA will provide rules books which will include the current rules of some of the most popular rules sets played today. An official representative of each of these rules sets will be in attendance and will answer any questions which may arise. Their rulings on any question will be final.
A "game" is defined as a minimum of at least one offensive series by each coach. (Please note that a kickoff return for a TD will be counted as one offensive series.) The game may be played out to the full extent of the rules chosen or two or three offensive series by each coach, rather than just the one offensive series. This must be predetermined and agreed to by both coaches before kickoff.
A sheet will be provided that must be signed by both coaches and one witness to the game. The information on this sheet must include:
The name of the two coaches
The length of the game. (1, 2 or 3 offensive series by both coaches or full game)
The rules set used (any agreed upon variations of the rules or "house rules" should be briefly noted)
The score
The name of the winner
The signature of each coach and the witness.
These sheets will be turned into a challenge official at the completion of the game.
Before agreeing to a game the coaches should agree on:
Length of the game
Rules set and any variations or "house rules".
(Coaches should either have the equipment needed i.e. dividers, sticks, shaker box, etc or have access to that equipment before agreeing to a particular rules set) (the MFCA will attempt to provide sets of equipment for use but cannot guarantee their availability)
Weight of the players: 4.0 is suggested as the maximum weight but heavier weighted teams may be used as long as both coaches are in agreement. It is the responsibility of each coach to inspect their opponent's team prior to playing their game. Once a game has begun it is assumed that each coach's equipment is accepted by the other coach.
Points are awarded as follows.
0-7 game points scored=1 CPC point
8-14 game points scored=2 CPC points
15-21 game points scored=3 CPC points
22-above game points scored=4 CPC points
Winning coach receives an additional 10 CPC points for the win
Losing coach only gets MFCAL points for game points scored per the chart above.
An additional 3 points each will be awarded for each different rules set played under, over the course of the weekend. I.e. Play your 8 games under 8 different rules sets you will get an additional 24 points added to your total.
Example:
Today via the MFCA forum Coach A challenges Coach B to a 2 offensive series game using NHFL Rules with no heavier than 4.0 man and figure combined. Coach B accepts. They also agree to play with a rules exception to play with front of the base tackling.
Both coaches agree to a time and place to begin at the convention.
Coaches meet and examine both teams and weigh any figures that might be in question.
A Challenge sheet is started and filled out with all pertinent info.
A witness is secured. This can be anyone in attendance. Tournament officials are preferred and need not observe the entire game but should be in view till the games completion.
Team A wins 21 to 10
Both coaches sign the Challenge Sheet followed by the witness.
The Challenge sheet is turned into a Challenge Official
Challenge Scorers score the game.
Coach A receives 10 points for the win + 3 points for points scored and 3 points for rules set used different from other rules sets previously played under.
Coach B receives 2 points for points scored and 3 points for rules set used if different from other rules sets previously played under.
Coach A = 16 points total for this game
Coach B = 5 points total for this game
Matt Culp
Robert Don
Chris LeMay
Steve Martin
Lynn Schmidt
Will Travers
Mike Turner
Route Running 50/50 Fundraiser
We are going to be having a route running 50/50 fundraiser contest at the convention again. The contest will be one attempt (no trial runs) each at three different routes. You can use a different man and base for each route or the same man and base for all three. It is $1.00 for each three route attempt. You must make all three routes to qualify for the money. Those that hit all three will have a last day runoff to determine the winner. Money brought in, will be divided, half to the MFCA and half to the winner. There will be a slant (must start pointing straight downfield), streak and a curl.
Below are examples.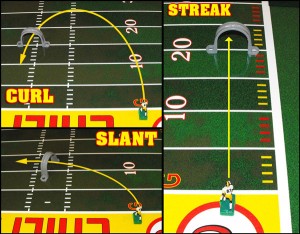 The GREAT TWEAK OFF
On Friday, August 6, 2010 at 5:30-6:15 pm just before dinner, we will hand out 2 half sets of same run new bases to the first 20 signups (signup at the door, when registering for the convention). You get to keep the untweaked bases as a prize for entering.
You will have 45 minutes to Tweak 2 bases for strength and 2 bases for speed while onlookers heckle and tell you how great their tweaking skills are compared to yours, if they could of only entered.
The tweaked bases will be run through the skills competition by the MFCA staff on Saturday and winners will be announced that evening and awarded the Golden Pliers trophies. One for speed and one for strength. The tweaked bases will then be split into 2 sets and raffled or auctioned off (TBD) by the MFCA as a fundraiser.
The field used will be an older Miggle Superbowl field. The exact same figures, (one for strength, one for speed) will be used on all bases.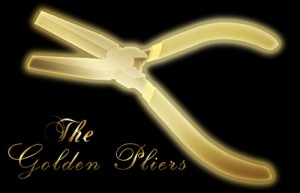 PAINT/CUSTOMIZING CONTEST
We will have 2 classes this year.
PAINT/CUSTOM CLASSIC-Players can be minimally customized and can have no dry brush or ink shadowing techniques applied. Think Mike Guttmann, Chris Stacey, 46 Defense style. Facemasks, chinstraps, towels, decals and grass can be added.
PAINT/CUSTOM ENHANCED-Basically anything goes on these as long as they conform to human form and body proportion.
All figures should be displayed on a base.
If you are NOT attending the convention you can still enter by sending your figures to: (Must include postage for return or John gets to keep it)
John Martin
364 Aspen Drive
Dover, OH 44622
Mail in figures must be received by July 31, 2010.