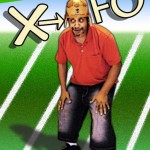 Well, after a good weekend of games, I can start the time has come to start adding the game plan for the offense.
It is not an easy thing to try to explain how to execute plays during the game. It all starts with what you do in practice.
You, as the coach of your team, must be the one who finds the talent, put them thru the training process to find a place for that player.
I will not break things down unless I get more questions that reference something. Otherwise, I will begin……..
….1st down and 10 is a good place to study somethings about the team you are playing. this is also the time where you can run a dive play (21-Dive in my playbook) to find out early what you will be able to do.
Also running the ball on the 1st play will allow you these early game situations to evaluate what you can do.
example #1 – you can look at the WR on either side to see if they can get away from the the CB.
example #2 – you can gage how fast the loopers are; where they are coming from; how best to block them…
example #3 – you find out if your O-line is strong or weak…or you find out that you might have to make some adjustments to moving players around .
When you find out some of these items, you can call better plays as the game progresses.